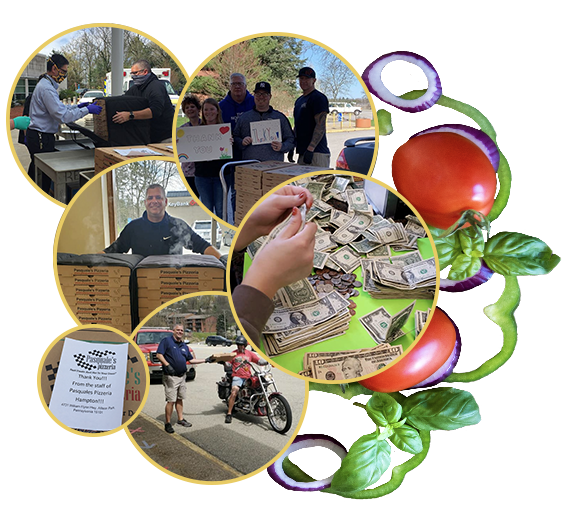 WITH COMMUNITY AT THE HEART OF WHAT WE DO AND YOUR ONGOING SUPPORT, WE HAVE BEEN ABLE TO GIVE BACK TO THE COMMUNITY IN NUMEROUS WAYS.
At Pasquale's, we believe in serving those around us. Whether it is serving you the best pizza you can find, donating food to those who need it, or volunteering our time to help our community with a cause, we stand strong with our community.
From the outfield to the auditorium, we support it all.  We're proud to call this community the home in which we live and raise our kids. It is our passion to lend our kindness back to others because we believe that it is a small step that we can take to help make this world a better place.
It is an honor to do all of this and more because of your continued support!
BENEFIT NIGHTS
A popular favorite for many organizations, a benefit night can earn you 20% back on qualified sales. The best part is that there is no cost to your organization to have one!
FUNDRAISER CARDS
With fundraiser cards, your organization can raise money quickly. Simply purchase the cards and resell on behalf or your organization. Please stop in either of our stores to purchase.
DONATIONS & SPONSORSHIPS
Throughout the year, we will make donations of food to local organizations to help them in their endeavors, or often help to sponsor our local little league teams or community organizations.